)) The Square Stair ((
MTS has all free content, all the time. Find out how YOU can help to keep it running.
Tell me how...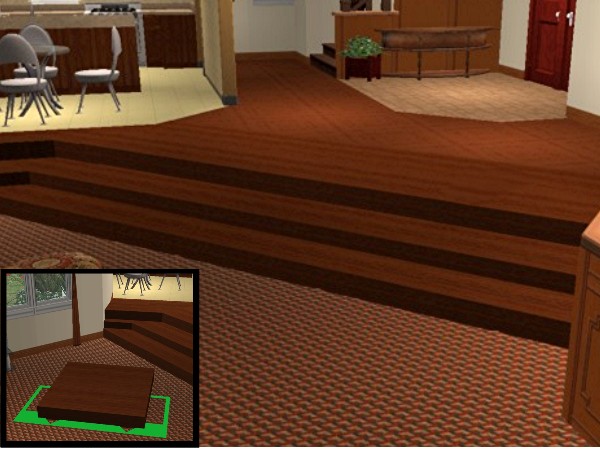 Created by khakidoo View Downloads Home
Uploaded 29th Dec 2006 at 2:33 AM · Updated 15th Feb 2007 at 11:52 AM by khakidoo : added white recolors
))) The Square Stair (((

Attention!!---
This upload has been updated in a new thread -
http://www.modthesims2.com/showthread.php?t=220444
Please follow the link to download the current version



Thanks
I cloned the maxis "Comfy Pet Pillow" and with
a lot
of help, made this thing!
Look how cute and square-a-licious it is!
~~~~~~~~~~~~~~
Here's a little
tutorial type clip
I don't know someone may
find it helpful:
http://video.google.com/videoplay?d...944528874571538
Sims walk through it, and it does cut off thier feet, but I personally
don't mind that. It will also obscure toddlers and small pets as they
walk thru;
here's a clip on google video of the stairs in use
:
http://video.google.com/videoplay?d...428712888&hl=en
~~~~~~~~~~~~~~
Most of the credit
for this goes to
Inge Jones
for modifying the mesh and
to
MaryLou
for fixing it after I screwed it up so that it is recolorable again.
I also want to thank:
* IgnorantBliss for help in my create forum post
* Corvidophile2 for bumping my request thread
otherwise, I would have just forgotten about this.
(a moment of silence for the late request forum

)
* The guy who originally replied to my request
post about 2 seconds after I posted it to say it
was neat idea - can't recall who he is 'cause the
thread's gone but early encouragement was nice
* All the tutorial writers Numenor, JWoods and
others I have to find names for and all the people
who asked questions before me.
* The
SimPE
Developers and helpers and contributers
* ModTheSims2 and the souls who keep it going
* All the friendly people who helped and encouraged me

~~~~~~~~~~~~~~
In your game you will find this
in the Buy Mode > Decorative > Miscellaneous area of the catalog.
This is a "decorative stair" for lack of a better term, but using the cheats listed below you can
angle the level of the ground and place these over that angle to make stairs on the diagonal
boolprop snapobjectstogrid false
moveobjects on
boolprop allow45degreeangleofrotation true
boolprop constrainFloorElevation false
(see tutorial link at bottom)
~~~~~~~~~~~~~~
It's a 2 tile object (1 when turned diagonally) and
SimPE
tells me this:
Vertex Count
34 (18 faces)
I'm not really sure what all that means, other than that lower
numbers = faster gameplay, so hopefully I've given the necessary info.
~~~~~~~~~~~~~~
It also
works quite well as a hearth for fireplaces - at least
it seems to. Depending on how you like to build there are
some things you may notice/want to do/want to
not
do, etc
Here is a quick pic of one 'situation' and how I dealt with it...
I know the builders out there can find some other creative uses for a plain old ordinary square like this...

~~~~~~~~~~~~~~
Recolor it, include the mesh
, do whatever you want to do with it,
but don't make people pay for it please

If you do recolor and stuff,
maybe drop me a pm because I might want to use your recolor in a
house or something and if anyone is inspired and makes other "stair
shaped meshes" please let me know if you think of it because I'm
sure I'd love to build with them

~~~~~~~~~~~~~~
Here
is a really easy to follow starter's speed tutorial
on using boolprop constrainFloorElevation false
http://thesims2.ea.com/exchange/sto...&user_id=171898
for more info go to the create section here at MTS2 and
there's a Build forum; you can find lots of help there.
~~~~~~~~~~~~~~
The house from these pics is available for
download here at MTS2
as well in
this post
If you want to see how I built with
these stairs, you can check it out
"""""""""""""""""
I hope I included all the needed info

Thanks Everybody

P.S. Now someone has to make a "roof edge/corner" shaped mesh...
sigh, I'm gonna miss that request forum...
P.P.S. If anyone ever sees me nosing around posting for help in
the object creation spot because I want to make something again,
please have me commited because, surely, I will have lost my mind.
"""""""""""""""""
Tags: #Decorative, #Stairs, #Diagonal, #Stairs