>

Pixel dollhouses/For sims to live their lives in/Nice houses for sims
"Sun and Sea" - Waterfront Starter (Basegame) with Swimmable Beach
MTS has all free content, all the time. Find out how YOU can help to keep it running.
Tell me how...
Picked Upload! This is a picked upload! It showcases some of the best talent and creativity available on MTS and in the community.
Description
The 'Sun and Sea' is a tiny cottage, right on the shore for easy swimming and sunbathing. The exterior is finished with siding in cheerful yellows and blues, and the wrap-around verandah keeps the occupants cool, while allowing clear views across the dunes.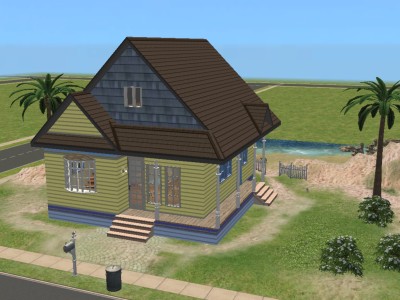 The 'Sun and Sea' is a little worn around the edges, what with the rigorous seaside climate and being a holiday home for a family with three boys. However, with new furniture and perhaps a lick of paint, it can become a beachside gem.
The main floor consists of a combined living area and kichen, with a hall opening onto the master bedroom, bathroom and cute laundry with beach access. The internal colours are beach white and sunshiny orange, with ocean accents.
The house backs onto the dunes, with a small private beach and a jetty for diving. The garden boasts a few well-grown palms and some large oleanders, with space for swings and a BBQ.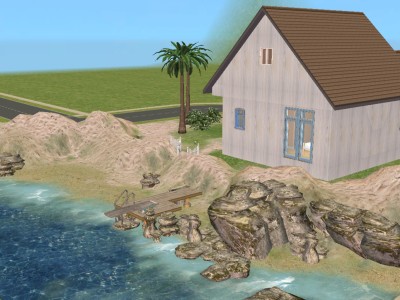 This cottage is perfect for the young couple starting out, with the master bedroom on the main level, but the attic contains a twin bedroom, with ensuite, and a mezzanine overlooking the lounge, with space for another bed if required, or a study.
The house is minimally furnished with a couch, phone, bathroom and kitchen fittings, plus some lighting. Bring your sleeping bag for the first couple of nights.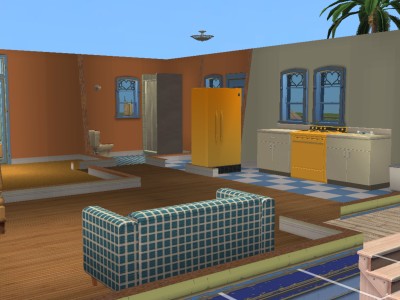 Notes
The cottage has been thoroughly tested by the Wilson family, including coping with baby twins - which I really thought would not be possible in this little house. However, with Rebecah's one-tile baby mats, they managed.
There is room for only one double bed in the house, but space for three singles in the attic, plus another in the master bedroom. The main bedroom also has a nook big enough for a dresser or cot. So you could sleep six people in the house if necessary, although there isn't space for a big dining table. They could eat al fresco. The main bathroom is small, so use a combined shower/tub. I put an outdoor shower near the beach path for swimmers to sluice off before coming in, and you could turn the laundry into a separate toilet too. Hey, I said it was a small house!
The floorplan pics below show the house with full (basic) furnishings, so you can see how I laid it out. The real-life view (first pic) shows most of what you actually get in the house package.
Since testing, I have refurnished and also made some alteration to the beach area - shortening the pier to give Sims more space to dive, and removing the weathered diving board and ladder, which I have discovered came from TSR.
Please let me know if there are any problems with the swimming area - it is surrounded with invisible fence, and since I can't see it, I can't be absolutely certain the fence is in the right place, now that I have messed with the pier.
There are a bunch of terrains in the package which I didn't use, but if I take them out, the lot doesn't work, so here they still are.
The house should be weatherproof, to the best of my knowledge.
As always, keep it free, and let me know if there is something that doesn't work.
Note
- 18/04/2008 - this lot uses uses custom modular stairs by Crocobaura. If you don't have them installed in your own game in the way described on the original thread, the stairs will work for this lot, but won't appear properly in your build catalogue.
Lot Size:
3x3
Lot Price:
19,933
Custom Content Included:
- Double Pane Window by
rebecah
- Paned Door by
temptress
- Steadfast Stairs Open Underneath by
crocobaura
- Tall Column by
darylmarkloc
- Walnut Door recolour by
Holy Simoly
- Window Recolour by
Holy Simoly
- waves at the beach less saturated by
Loverat
- Terra nova by
Margierytka
- Monticello Window by
simfantastic2
- Bay Window Recolour 1 by
simfantastic2
- Bay Window Recolour 7 by
simfantastic2
- Long Paned Window by
temptress
- Fair Trade Wooden Floor by
Parsimonious
- Dark Blue Lino by
WykydSyn
- Blue Slate Wall by
Kate of parsimonious
- WfS2 Barn Straw Floor by
Nofrena
- Circle Stone by
Tjobbyd
- cyclonesue Shallow Seawater - Bluer Recolour by
Loverat
- Aussie Beach Pebbles6 by
shrekheatherbell at MTS2
- Rough Water by
Daman19942
- Piasek Nr 3 by
Margierytka
- cyclonesue Deep Sea Calm by
cyclonesue at MTS2
- Circle Stone by
Tjobbyd
- cyclonesue Shallow Seawater - Bluer Recolour by
Loverat
- waves at the beach - greener/lighter by
Loverat
- Piasek Nr 1 by
Margierytka
- Sucha trawa by
Margierytka
- WfS2 WW Rock Terrain brown by
Nofrena
- cyclonesue Icy Seawater by
cyclonesue at MTS2
- Aussie sand by
shrekheatherbell at MTS2
- Brick Walkway by
Digitalangyl
- Aussie sand3 by
shrekheatherbell at MTS2
- Cheap panelling by
TS2D
- Seaside Retreat Siding 1 by
Holy Simoly
- Seaside Retreat Siding 2 by
Holy Simoly
- Marmalade Wall by
Witchboy
- Beach White Wall by
Witchboy
- Grassy Growth - Arashmaharr by
zedrik
- Nengi's big Oleander by
Nengi65
- Pagoda Rocks Recolour by
Nengi65
- Sand terrain by
Ilona
- Blue lino by
JLonier
- Modular Stairs by
Numenor
- Pond Rocks by
macarossi
- Piasek Nr 2 by
Margierytka
- Aeden's SImwater by
Aeden
- Scrub Temperate Grass by
Parsimonious
- Path to Meadow by
parsimonious
- Trashed wood Stairs recolour by
dewshine
Additional Credits:
Thanks to moon_Ez for the invisible fence, which makes it all possible. I got it through Loverat's Seaside lot here on MTS2.
Thanks to Niol for advice on attic walls to keep out the weather.
Thanks to everyone else whose creations have inspired me to build newer and better things. I couldn't begin to list all the tutorials and lots I have looked at, but they have taught me all sorts of stuff.
Number of bedrooms: 2 Bedrooms
Custom Content Included: Build content only
Furnishings: Starter Furnishings

Tags: #beach, #swimmable, #yellow, #blue, #starter, #old, #worn, #used, #family, #small, #tiny, #little, #sand, #sea, #ocean, #verandah, #rocks
About Me
One of the best things about the Sims 2 community is the generosity of so many people, who make things, write tutorials and generally encourage everyone to get the most out of the game. I have benefited enormously from the work and advice of many others, and I thank them for their time and effort.

If you like my work, remember to hit the Thanks button. It's nice to feel appreciated. Constructive feedback is also welcome - I can't fix it if I don't know it's broke.

Please enjoy my creations, and keep it free!