>

Mods that run in the background that modify game play in all lots without player intervention.
Increased Challenge Mods 2
MTS has all free content, all the time. Find out how YOU can help to keep it running.
Tell me how...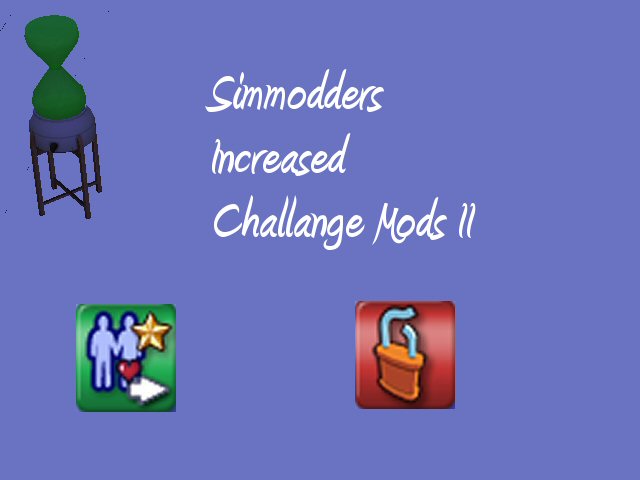 Here is part 2 of a collection of small mods intended to make the game more challanging:

cd_asp_rewards - This package changes aspiration rewards giving them a small risk of failure with each use, even when aspiration level is gold or platinum. This risk is increased to 25% for elixer of life since this is such a powerful reward, plus energy hunger and comfort are reduced when it goes wrong. This mod requires Uni or an EP after uni.

cd_dating
This package changes the following things about dating
- You can not ask a sim on a date on a residential lot between midnight and 7am
- Romantic wants will not appear untill the date level is already at good or better, even if the sims are already romantically involved (so that dating is still a bit of a challange)
- The mood boosting effects of dating are reduced for all motives except fun and social, since a good date shouldn't really affect things like hunger and energy so much
This mod requires nightlife
The reason I made these changes was that before it was possible for 2 sims to keep there needs and wants filled just by continually dating

edit:
As requested i've added a new version cd_dating_v2 which is the same as version 1 except that romantic wants will still appear at all date levels for Romance and Pleasure Sims

Tags: #aspiration, #reward, #dating, #challange
About Me
I have created mods for the sims 2 partly to improve the game for me and the way I think it should work and partly because I like a challenge. If you find any bugs in my packages, or if the don't work with your EPs then I will try to fix them. I also welcome requests for enhancements to my packages. However I do have other stuff to do with my life so don't be surprised if your requests go ignored for a long time/forever.

Feel free to use my stuff however you need and re-upload but please give me credit. I am often not modding/playing the sims so might not be about to answer any questions.

From now on I plan to upload any new stuff to leefish but will still support/update stuff I have already uploaded here.