>

Modified configuration files that are not packages.
Gigantic Townie Name Replacement Mod
MTS has all free content, all the time. Find out how YOU can help to keep it running.
Tell me how...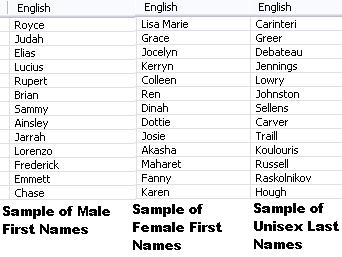 Created by CuteLilDeadGirl View Policy / About Me View Downloads Home
Uploaded 30th Dec 2009 at 12:42 AM · Updated 23rd Dec 2010 at 6:06 AM by CuteLilDeadGirl : New Names Added. Redownload if you wish.
This is my Christmas gift to the entire simming community and I hope that you'll all enjoy it.
I've been working on my own default replacement townie name mod - and it's one of the biggest ever posted - seriously, I did the math!
This mod will effect any newly created townie or NPC by giving them a better name. It will not effect townies that already exist. You'll never get another Goopy or Komei with this mod. But the names I have chosen are multicultural and are real names, I didn't make any up.
Here is a random sampling from
SimPE
of some of the names from each section. I tried to be truly random and not just choose a section of my favorites for a preview and that certainly was the result.
There are a total of 3,780,628 possible combinations for the game to choose from, so it is unlikely that you'll ever have two townies with the same name again.
What kind of names are on the list?
My mod is extremely diverse. I tried to look at the way the real world works.
Imagine you live in a very large city, a multicultural melting pot of diversity.
Not everybody in that city was born in your country or has the same background as you. Apart from common and uncommon names from English speaking countries, there are names from a variety of cultures. Eg. Japanese, French, German, Russian. There are also some old fashioned names that don't see much regular use anymore. Many old fashioned names are making a comeback recently, and I wanted to include them for this reason, as well as the reason that many are very pretty names. There are celebrity inspired names. And names from popular literature. I have thrown in the occasional nickname. There are a few very unusual names as well.
Install Live.package in to your downloads folder and the mod will start working immediately. Any new townie that spawns will have a name from lists.
Please note
that when planning on creating a new neighbourhood, you should clean your neighbourhood templates beforehand in order not to have the original Pleasantview townies spawn. There are links to an excellent tutorial on cleaning templates as well as a lot of advice on completely custom, non-default townies and how to get them in my
FAQ
.
There are two versions in the .rar file.
English Versions
will effect only the two English versions of the game.
All Languages
will effect the following languages:
English
English (UK)
French
German
Italian
Spanish
Dutch
Danish
Canadian French
Swedish
Finnish
Norwegian
Hungarian
If you have any additional questions or want to view my policy feel free to go to my LJ where there is a long
FAQ
about this mod.
Additional Credits:
Jordi
for the original mod, showing this could be done and giving permission for people to edit the mod.
SimPE
for providing the tools needed to do this.
Edit: December 23rd 2010 - I have added a bunch of new names - 13 male, 66 female, 48 last - 127 new names in total! I have also completely redone the mod, running my name lists through a list randomizer and typing all the code out again. Somebody once said name mods always start from the same point in the list (no idea if that's for real), but I've decided to do this once a year so that your names are as random as possible forever. Feel free to redownload if you wish. Happy simming! Oh, and I don't know about you guys, but the file update is not showing up no matter how many times I refresh (probably due to increased holiday traffic) but if you're impatient and can't download, go to my LJ FAQ link above, there's a seperate download link for the mod there

Type: Global Mods

Tags: #default replacement, #townie, #npc, #name, #names, #defaults, #mod