MTS has all free content, all the time. Find out how YOU can help to keep it running.
Tell me how...


Hilltop Bungalow: 2b/1.5b with Pool and Deck... and a Secret Room!
by
CatherineTCJD
Posted 31st Jul 2011 at 1:58 PM - Updated 9th Sep 2021 at 2:49 PM by CatherineTCJD : Ooopsie - forgot somethin'
Aug 31, 2021 - Added
UPDATED Version
with NO CC!
You will need the
Lifestyle Build Bundle
for some of the wallpapers, if you want them - you can always substitute whatever wall you choose.

--- You
may need to have
Numenor's
Unlevel Wall - #90
- I use this wall all the time as it is such a forgiving wall to build with

Click the info button below to see how I suggest installing this wall
NOTE
: If you decide
NOT
to use Numenor's Wall #90, there may be missing wall sections or pieces of the WroughtIron fence in place of walls.
Lot Size:
20X40
Lot Price:
$99,544
*New pictures are tacked onto the end...
Hilltop Bungalow
Pleasantview, circa 1946
This house has been hangin' around my game for a while now (Actually, since 1946 - would you believe it! No? Oh...) Well, I have enjoyed playing it with a few different families and I hope you'll like it too. I've changed several things around to make it upload friendly - please make more changes as you see fit to make it your house. It is a split level bungalow on a sloped lot (I used Inge Jones graded 10% slope lot template - TQ Inge!) And I built it for a specific lot - see the neighborhood picture below (but, it can go wherever you want it to go.)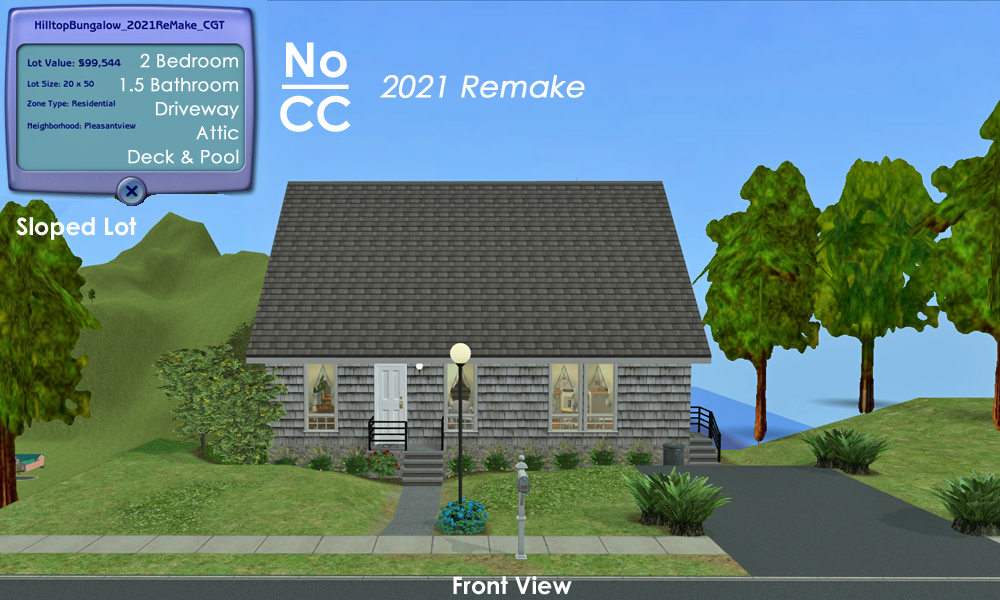 This house, built in 1946, was last lived in by a young family with a new baby - who asked to remain anonymous. They were only in the house a few short weeks, when they suddenly put the house back on the market and left town (I think they moved in with her great-aunt?) Anyway, they left all their belongings and have instructed me to just "Sell that place!" I've had the house inspected, and it is deemed perfectly sound. However, the inspector did say he'd never seen an attic quite like
that
before. "Wild!" he said, with a shake of his head, "But, it
is
a very nice, well built, quaint - ahhh, well
deceptively
quaint, little starter home." So, without any further ado, I present to you,
The Hilltop House
.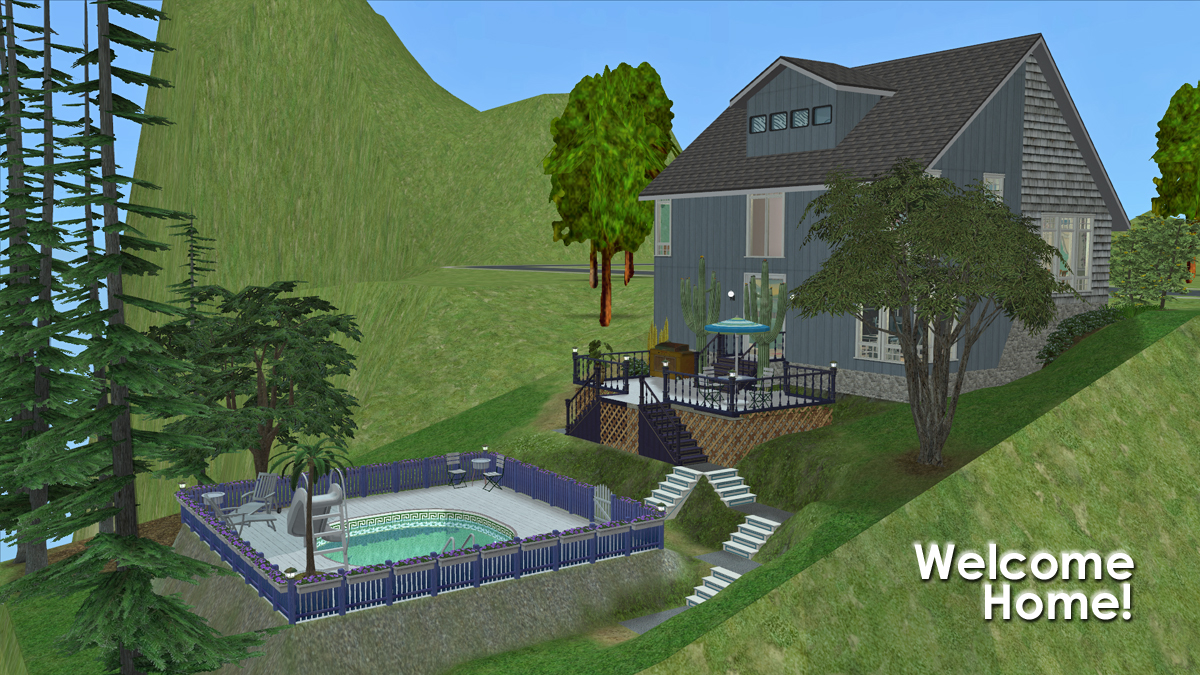 ~~~~~~~~

The following info pertains to the OLD/original lot only; it is
not
necessary for the 2021 Remake!

~~~~~~~~
MAIN FEATURES:
Lot size: 20X40 (2X4) - HILLSIDE/sloped lots ONLY.
Around 1,391 sq ft covered living space - 2 bedroom, 1.5 bath, family room, office, living and dining rooms, patio, kitchen, and a secret hidden attic studio (accessible via transporter pad only,) decked pool, and a spectacular view of Pleasantview - if you situate this lot as I did.
Around $37,314 simoleons - I say "around" because I have extensively re-organized my build/buy catalogues and, in doing so, re-priced most everything. I don't know if this will effect the cost in your game or not. If it does, maybe your Sims qualify for a huge tax break? Inheritance? Or, it's their turn to win the lottery?
Furnished - Kitchen appliances, bathroom fixtures, flooring, wallpaper, lights and ceiling fans included. PLUS all the furnishings your family will need to be comfortable.
Alarm systems included (invisible - for both fire and burglar)
A cozy color scheme with lots of blue, pink and dark woods - textured ceilings throughout
Ceiling fans in both bedrooms
Earth-friendly reclaimed shingles and highly polished old wood floors
An advanced retaining wall system (by tbudgett) Hillside erosion will not be a problem
Quality Maxis doors and windows
Mature Trees: including dogwoods, scotch pine, magnolia, plumeria, birch, and Rowan
And a stupendous view of beautiful downtown Pleasantview
EDIT>>>
I just realized that I didn't mention where the teleporter device is...

I used SimWardrobe's teleporter - which looks like an LP sized CD on the floor. In the "Attic" picture (below) you can see it on the right. The
downstairs end
of the teleporter is located in the study/office. Sorry for the omission!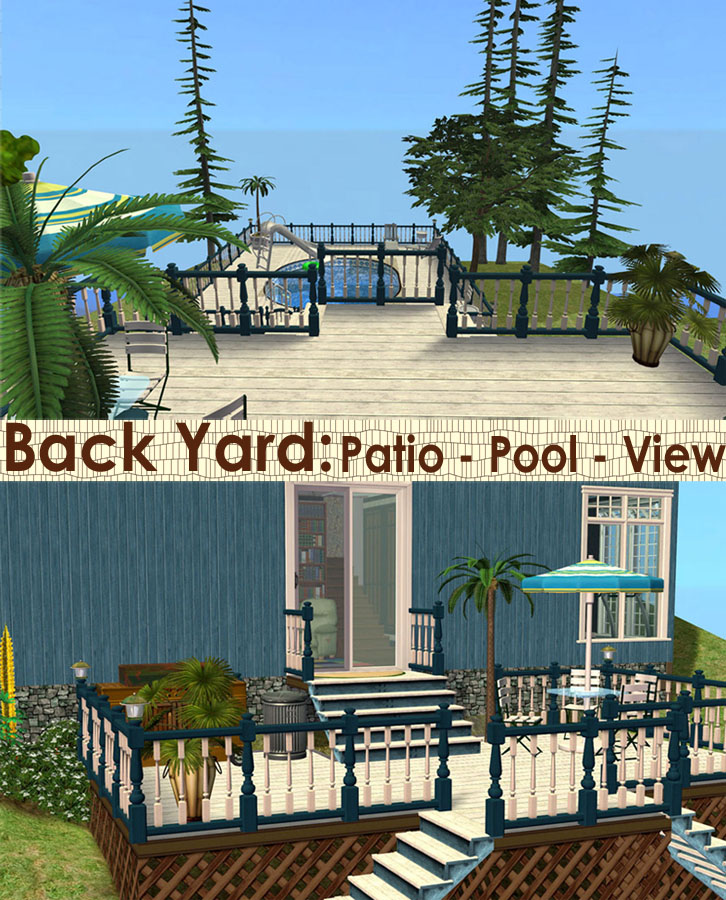 *** This is a HILLSIDE LOT! ***
This house is
NOT
built on a level lot - it is meant to go on a sloped lot, one that drops away in back (as your facing the house, from the street view.) Sometimes sloped lots can mess up your neighborhood. So, please back up your neighborhood before installing anything.
Credit & Thanks:
To all the wonderfully talented creators & re-colorers whose work I have used in this house:
THANK YOU
!!! You all make the Sims truly fun!
Shopping List:
items needed but NOT included...
-
SharedIsSofaASectionalGlobal
by Inge Jones - needed for Blake's Annie modular sofa to work properly.
-And, a MUST HAVE for every game (IMHO): -
Lunatech Ceiling Light FIX
by Menaceman44 at MTS2
Lot Size:
2x4
Lot Price:
$37,314
Included in the EXTRAs file - things NOT in the main file. Either they just didn't package properly or I couldn't find a direct link - so you could easily go get them yourself. And/or things from Creators without a current web presence
(At least, none that I could find!
-
Jonesi: Bed Blanket
You
may
need this for the shower curtain to show up properly(?) the blanket itself is not used in this upload.
-
amythestfenix_JonesiReflexsimsForumBedBlanket_bazzilblack
- the shower curtain by Amethystfenix
-
al new gear window in white
- both open & closed versions by Fway
-
epurebathroom mirror
by Sandy @ ATS
-
Galliano Llama wall clock recolors
-
aaFresnelCeilingMASTER
by MLC @ MTS2
-
Craftsman_Tall_1Tile_Shutter
by tbudgett @ MTS2
-
RetainingWall_Fence_Chic-CountryBlue-Recol
by tbudgett @ MTS2
-
RetainingWall_Mesh
by tbudgett @ MTS2
-
Invisible Driveway
by SophieDavid @ MTS2
-
Annie-Modular-SofaNoCushion
by BlakeBoy @ MTS2
Custom Content Included:
- Floor Drain Puddle Prevention by
yedda_2000
- Season's Match Wine rack & Expedit 1T desk & Backless exp shower by
HugeLunatic @ MTS2
- Annie-Modular-Sofa by
BlakeBoy @ MTS2
- Upper Kitchen cabinets & Ceiling panels & Quiant round dining table by
CTNutmegger @ MTS2
- Edge Smoothers Set by
Ailias @ MTS2
- Domino stair/fence by
Guatla
- RetainingWall system & Craftsmen Windows by
tbudgett @ MTS2
- Invisible_sddrivewaynightlife by
Sophie-David @ MTS2
- InvisibleBurglarAlarm by
pfish @ MTS2
- Invisiblesmokealarm by
pfish @ MTS2
- Invisibledrainroomrug by
pfish @ MTS2
- floor_MASArabesque2 by
Celebkiriedhel @ Simthing
- Stairs & floor_acajou by
mere @ Simthing
- Black5Tile-74 by
OhBehave007 @ MTS2
- OldSummerFloor_A by
piggis @ Piggis-sims
- blakeboy-AnnieModularSofa-linen02 by
piggis @ Piggis-sims
- Bazaar lantern & luneattic board & luneattic chair & noguchi lamp & ogs broom & oggs telescope & Floor recolors by
K8 @ Parsimmonious
- decorativeBox by
ADELE @ MTS2
- Architect desk & indus counter & mexico decor & mystic bookcase & tropezienne table & witchcraft potion by
Sandy @ ATS
- Salon_Gaby_Table_Basse_2x1 by
Lithium @ SimsDesignAvenue
- aaFresnelCeilingSET by
MLC @ MTS2
- Lux Dining chair by
MsBarrows @ MTS2
- New Mesh-Tiny Ceiling Light by
senesi2003
- s2sumLpooltubetrans by
SimFantastic2
- 1tileFullPoster(Borders) by
CatherineTCJD @ MTS2
- BorderRubyParisian by
CatherineTCJD @ MTS2
- OpenTimberStairs_022207 by
Reyn @ MTS2
- lafenetreloftdoor by
wind @ MTS2
- faketrashcan
wind @ MTS2
- Wellwisher door straight by
LeeFish @ LeeFish
- Wellwisher Arch Straight by
LeeFish @ MTS2
- terrainPaint_b24f2290 by
Jasiek123 @ MTS2
- gearhead Windows by
Fway @ MTS2
- Blue Wood Wall-2647 by
AweSims @ Awesims
- wall-Arts&Crafts-shingles-Ocean by
saz @ Awesims
- atssandy_obj_mysticliving_bookcase001-rc2 by
engelchen @ All4Sims
- ML-NMN_HackedCoatHook__rack__black by
fanseelamb @ MTS2
- viccolors6_numenor_deckStairs by
marina @ marinasims
- Ocean pool wall by
Simlin55 @ casasims
- SL13_plummosaic_wall by
Riekus13 @ SimLane13
- SetGothic_ChandelierLustre by
Frances @ SimsDesignAvenue
- ToddlerMirror_AllGames by
BobL & Numenor @ MTS2
- Drift_PebbleCandle by
BuggyBooze @ MTS2
- Sunairlight_Computer by
MQ @ MTS2
- Hacked-Coat-Hook "Shop-at-home" Hacked Coat Hook
ML & NMN @ MTS2
- DeckStairs_main by
Numenor @ MTS2
- needed for Reyn's Open Underneath Stairs to work properly.
- seasonsmatch-shelf-mesh1 by
Xio @ Simplan-X
- Transporter-Pad
SW @ Paladin's Place
- Various walls by
PKTeckgirl @ JuniperSun
- Walk Around & Through Blocks by
Silent Lucidity @ MTS2
- Natural stone tile wall by
Deathkat @ DKDesigns
Lot Size:
2x4
Lot Price:
$37,314
8 Comments / Replies (
Who?
)
Expansion/Stuff packs required:










+ 9 SPs
8 Comments / replies (Who?)
977 Downloads
14,192 Views
Number of bedrooms: 2 Bedrooms
Custom Content Included: None
Furnishings: Fully Furnished
Special Flags: Not Applicable