>

Mods that replace game resources other than the script core.
Rename WooHoo! to Make Love
MTS has all free content, all the time. Find out how YOU can help to keep it running.
Tell me how...
This mod edits the strings that refer to the WooHoo! Action and changes it to Make or Made Love, depending on context. It also changes the memories, wishes, etc.
I think it might also affect NRAAS' WooHooer - not sure. I haven't tested it that far.
It doesn't conflict with it, though.
Edit:
Any of the WooHooer strings are unaffected by this mod. So, unless you have those strings personally changed, those will still say WooHoo! I am contemplating contacting the maker of that mod and seeing if I can't update this one so that it will work, even with the WooHooer in-game. Stay tuned.
My only issue is I believe most instances of Make Love are capitalised just like that, even times where it wouldn't grammatically make sense... I did this because WooHoo is nearly always capitalised, so it only made sense.
The only instance of WooHoo I believe it doesn't affect is some computer upgrade text where it says something to the effect of "Woohoo! The computer doesn't run any faster..." etc. I left that alone because, obviously, the term 'make love' wouldn't fit well in there.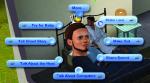 Compatibility
As far as I know, it shouldn't conflict with anything, except mods that change the same strings. However, remember this is my first mod, let me know if you find any problems.
Game Updates
This mod should work after an update as long as the way the strings work isn't changed... Or if they add more WooHoo! strings... It's safe to assume this mod will continue to work on future updates. If not, I'll try to update it, just let me know.
Translations
This Mod is only available in the English game thus far, cause I have NO idea how to translate or even leave it open for translations!
Credits
I used Misukisu's new STBL program to do this.
Here.
I had no one instructing me, so it was fairly easy... I only CTRL+F searched for all instances of WooHoo, changed the ones that needed changing according to context and saved, so it was pretty easy...
So thanks to Misukisu for the STBL program!!! <3
Enjoy.
Additional Credits:
Misukisu for the STBL program
Type: Social

Tags: #rename, #woohoo, #make love, #renamer, #change, #script, #strings