MTS has all free content, all the time. Find out how YOU can help to keep it running.
Tell me how...

Garbage Collector Custom Career
141
Thanks
Thanks
32
Favourited
This download is a custom career. This means that you will need the
NRaas Careers mod
installed in order to use the download in your game.
GARBAGE COLLECTOR CUSTOM CAREER MOD
Tired of being rich and having grand careers? Working in the Waste Management industry is as blue collar as it gets. This is a custom career for use with Twallan's Custom Career Mod. It originally started out with real blue collar wages, but that doesn't fit in with the Sims 3 careers wage tracks, so the levels were adjusted much higher (though still not as high as the white collar professional fields). This is a rabbit hole career located at City Hall.
Garbage Collector Career Offer
Imagine our world without waste management. There would be mountains of trash, flourishing diseases, and countless rats and pests on every street corner and in every neighborhood around the world. Luckily there are devoted, hard working, individuals who make their living collecting our trash. Are you one of them?
Location and Opportunities
This career is located at City Hall. There are no opportunities associated with this career.
Job Description
Roadside Trash Picker
$10/hr
M,R,F,S,U
The biggest contributor to roadside trash is the very same garbage trucks hauling it to the landfill. Pick up after your new coworkers by working as a Roadside Litter Picker.
Festival Littler Picker
$20/hr
M,R,F,S,U
Festivals are messy places, with overflowing garbage cans and disgusting, littler-dropping patrons. Guess who gets to pick up after them?
Park Litter Picker
$40/hr
M,R,F,S,U
People having picnics, throwing frisbees, playing with their dogs. It's nice to have clean parks to do this, and you're the one to clean it up.
Residential Garbage Collector
$60/hr
M,T,W,R,F
Make hundreds of stops collecting countless trash bins and load them into the back of a garbage truck. Get ready to work those muscles!
Commercial Garbage Collector
$80/hr
M,T,W,R,F
Hidden behind every store is a large trash container with your name on it. Use the hydraulic lift to dump it in your compactor from the comfort of your cab.
Recycling Collector
$100/hr
M,T,W,R,F
Reduce, reuse, recycle! Collect the recycling bins from the people who care about the planet.
Landfill Manager
$120/hr
M,T,W,R,F
Those garbage trucks need to know where to dump their loads. As manager, your job is to choreograph the smelly ballet.
Recycling Plant Manager
$140/hr
M,T,W,R,F
Sorting is a big part of recycling. Manage your workers to deposit everything in the appropriate paper, plastic, glass, and aluminum piles.
Assistant Waste Management Supervisor
$175/hr
M,T,W,R,F
Coordinate with the managers of the landfills and recycling plants to ensure things are running smoothly. A sloppy workforce leads to a stinky city!
District Waste Management Director
$300/hr
M,T,W,R
You've made it to the top of the heap. As District Waste Management Director, your job is to sit in all the boring city government meetings and try to get more money in your budget. You've traded the stink of trash for the stink of politics. Congratulations!
Skills and Tones
Uses the Athletic skill. This mod has no custom tones. This mod also uses EA base game career outfits from the Law Enforcement and Business.careers.
Requirements/Patch
Base Game
Patch 1.69
NRAAS Career Mod
Credits:
Missy Hissy custom career tutorial
Sims Wikia
S3PE
Twallan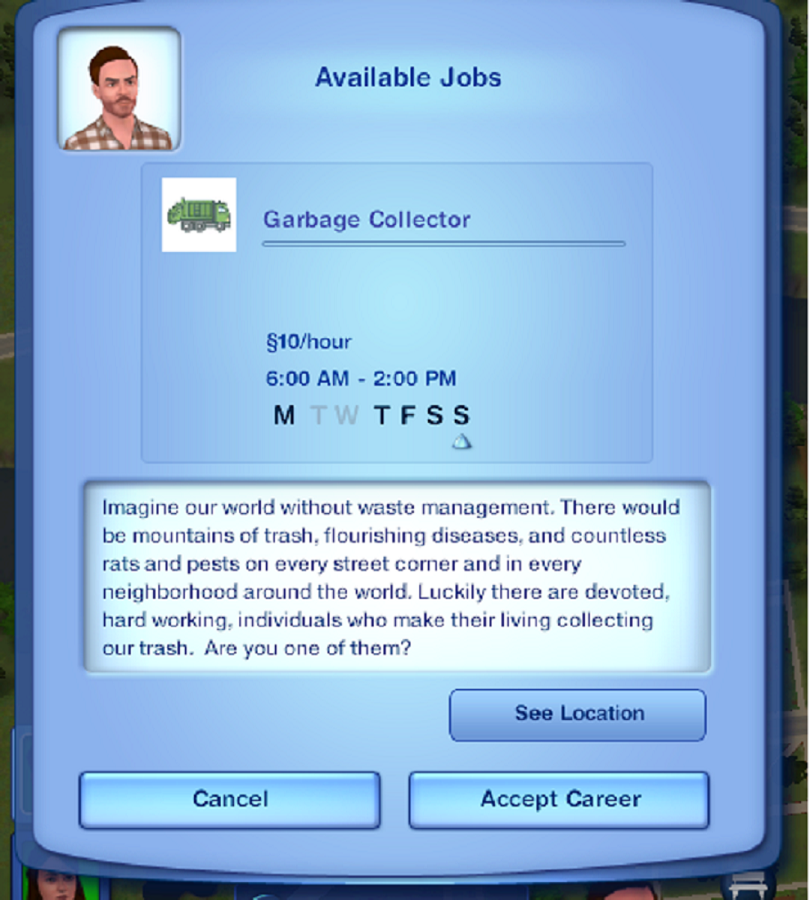 21 Comments / Replies (
Who?
)