>

Mods that contain script replacements or new scripts.
helaene - Trait Extras: Pet Lover Social Interactions
MTS has all free content, all the time. Find out how YOU can help to keep it running.
Tell me how...


Created by helaene View Policy / About Me View Downloads Home Patreon Tumblr
Uploaded 8th Feb 2021 at 10:41 AM · Updated 21st Feb 2021 at 8:40 PM by helaene
As if Angela and Lilith Pleasant needed something else to disagree about...
This mod adds social interactions (options when you click on another Sim) if your active Sim has the Cat Lover or Dog Lover traits. It goes without saying that you need the Cats & Dogs LP to use them.

As this is a script mod, you must enable script mods in your game options, and both files must be nested no more than one folder level inside your Mods folder.
All social interactions are contained within new Dog Lover and Cat Lover pie menus. Most interactions have custom speech balloons for appropriate iconography.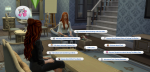 Cat Lover:
All interactions reveal Cat Lover trait and increase Friendship, and are available autonomously unless otherwise noted.
Complain about Dealing with Cat Litter


Enthuse about Floof


Express Skepticism about Having Too Many Cats


Joke about Cats Owning Hoomans (Funny)
Not autonomous


Squee about Kitteh Toe Beans


Talk about Cats Chattering at Birds


Talk about Internet-Famous Cat


Tell Story about Funny Cat Antics (Funny Story)
Not autonomous


Discuss Risk/Reward Ratio of Petting Cat Bellies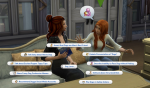 Dog Lover:
All interactions reveal Dog Lover trait and increase Friendship, and are available autonomously unless otherwise noted.
Assert that Dogs are Man's Best Friend


Debate Pronunciation of "Doge"


Describe Inability to Pass Dog without Petting


Enthuse about Very Good Bois


Pity Dogs in Safety Collars
Increases: Empathy
Not autonomous


Recommend Doggo Social Media Accounts


Share Funny Dog Confession Memes (Funny)


Talk about Excited Pupper Tippy-Taps


Tell Story about Heroic Dog (Story)
Not autonomous

If you enjoy the mod, leaving a comment makes my day - thank you!
<3 helaene
Additional Credits:
Thank you to Zerbu for their Mod Constructor, and to Kiara for inspiration and encouragement!
Type: Social

Tags: #helaene socials, #social interactions, #socials, #interaction, #pet lover, #dog lover, #cat lover, #pets, #trait extras
my policies:
https://discord.gg/zXpv5vKVE3

Updated: Feb 25 2007

Recoloring/Altering of Textures or Alphas:
You MAY NOT recolor or otherwise alter textures or alphas of my creation for redistribution. Obviously you can make whatever recolors you like for your own personal use, but you MAY NOT share these unless you have written permission from me (helaene@gmail.com).

Genetics/Makeup/Clothing/Accessories:
Please feel free to include these items in your Full Sim uploads at any site. Credit should be given to me (Helaene, http://www.helaene.com).

Meshes:
You may redistribute any Helaene meshes, past or present, with your recolors. Just please give me credit for the mesh, and post a link to my site whether the mesh is still available there or not.

Screenshots:
Please feel free to use any of my work in your screenshots…credit is unnecessary but always appreciated.