MTS has all free content, all the time. Find out how YOU can help to keep it running.
Tell me how...


New Farprork -Populated Basegame Neighbourhood
by
simsample
Posted 31st Mar 2021 at 10:44 PM - Updated 18th Jun 2021 at 12:36 PM by simsample
83
Thanks
Thanks
20
Favourited
This neighbourhood is a very simple, basic basegame neighbourhood. I wanted to make an inhabited neighbourhood that can be put into the game files and played immediately, without adjustment or setup needed. I also wanted it to be easy to play and not too demanding, so that the game would run smoothly.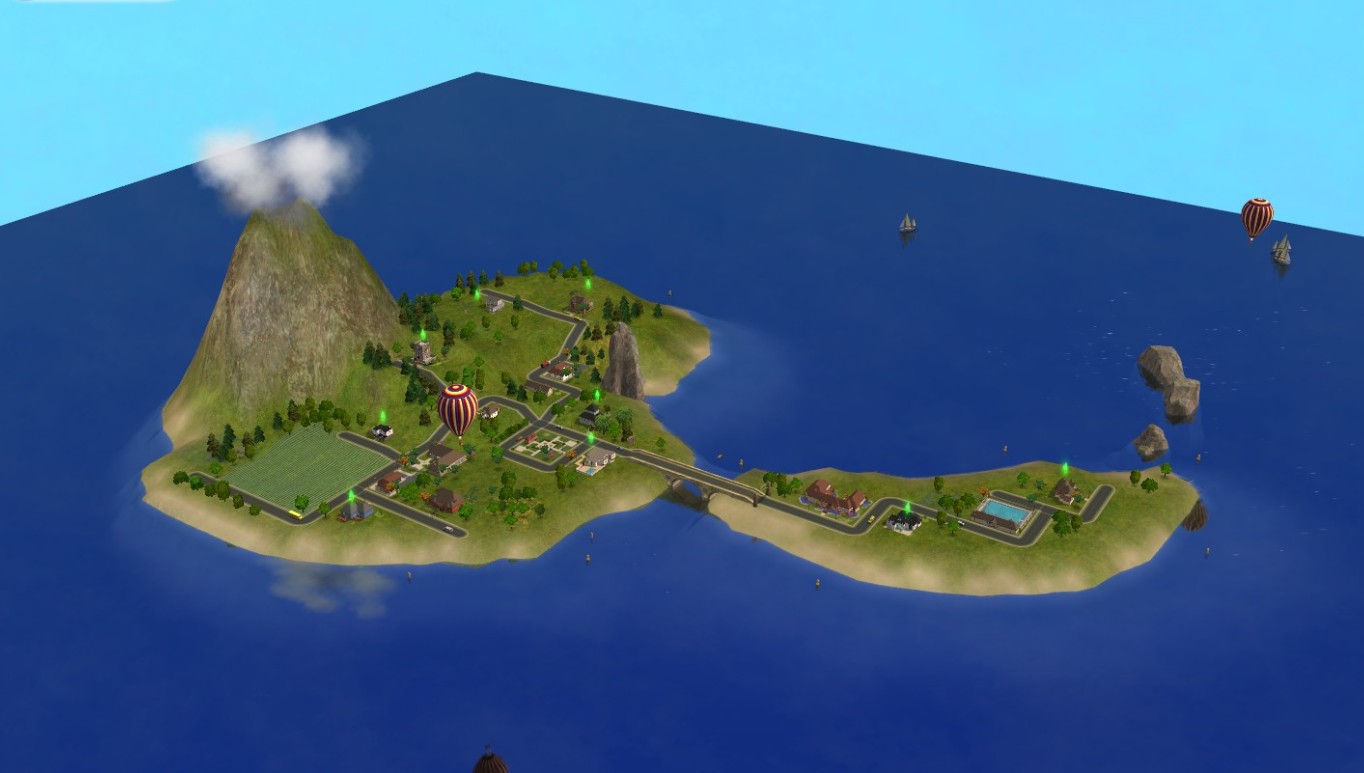 This neighbourhood was made in a clean environment, without any townies, NPCs or subhoods. In an unmodded game these will be generated on first run. However, if you use clean templates or mods to prevent Townie/ NPC generation, you may need to remove these or manually generate your own townies and NPCs.
This neighbourhood has a unique identifier: 2112 NFAR
Required packs- Basegame, fully patched.
This neighbourhood is a basegame world so is compatible with the basegame only game, as well as any combination of EPs and SPs.
Custom Content: None
Hood Deco: Some of the neighbourhood decorative items were changed in later gameversions, so you may notice that the neighbourhood looks a little different to the images if you play with expansions. One of the major decorations used is the tall rock next to the Tall Rock Arcade; this rock is not available in later EPs and will be replaced by a rather ugly three-boulder item. I recommend to delete this and replace it with a different one.
No camera mod needed to play, but the cloud above the volcano cone was placed using a modded neighbourhood camera.
To install the neighbourhood, unzip the NFAR folder into your neighborhoods folder.
Extras- these are optional downloads and not required to play the neighbourhood.
If you would like the in-game stories download
here
and unzip.
The storytelling folder should be put into the NFAR folder if you are playing with expansion packs, but if you are playing with just the basegame, copy the files from this folder into your Documents\ EA Games\ The Sims 2\ Storytelling folder.
To download the terrain file,
click here
. This is a custom terrain made in SC4 by me. This goes in your Documents\ EA Games\ The Sims 2\ SC4Terrains folder, and you can select it when making a new neighbourhood. Note that I used the terrain modification tools that came with M&G to modify the SC4 terrain for New Farprork.
Lots- There are 18 lots: nine inhabited residential lots, four uninhabited residential lots, and five community lots.
Sims- 25 playable sims in nine families; No NPCs or Townies. 25 characters total.
Families:
Jenks-
Mab Jenks (elder F)
Odd-
Hektur Odd (elder M)
Randulf Fitz (elder M)
Gilahan-
Elna Gilahan (elder F)
Frah Gilahan (elder F)
Yara Gilahan (adult F)
Plork-
Ron Plork (adult M)
Lona Plork (adult F)
Lena Plork (teen F)
Trin Plork (teen F)
Monn Plork (child M)
Harr-
Bork Harr (adult M)
Jorja Harr (adult F)
Jork Harr (child F)
Artu Harr (toddler M)
Tragg-
Chirl Tragg (adult M)
Elony Tragg (adult F)
Rucha Tragg (teen M)
Rhic Tragg (teen M)
Jippur Tragg (child M)
Salanda-
Marek Salanda (adult M)
Lin-
Jed Lin (adult M)
Gad Lin (adult M)
Fawn-
Jani Fawn (adult F)
Livia Fawn (adult F)
The sims all have relationships with other neighbourhood sims, and memories relating to their life before you started playing. This will hopefully give a little background to what went on previously! Note that the only memories the sims have are basegame memories, these are rather basic.
The sims all have recessive genetics which may give you a clue to their parentage.
Sim Heights- Some of the sims are taller or shorter than standard sims. This sometimes causes some funky walk styles on stairs and also some clipping during animations and interactions. This is cosmetic and does not affect gameplay. Heights are not genetic, so if you want the sims to have future ancestors who inherit their heights, you will need to do this in SimPE.
For details of the sims' DNA and heights, please download the spreadsheet I created for the families. It is created in Open Office.
https://simfileshare.net/filedetails/2426250/
There are no graves or dead sims in this neighbourhood.
Languages- This neighbourhood has had all name strings replaced by the UK English strings. The sims and lots should be the same for everyone, no matter what language your game install is in.
Some lots have mailboxes moved from the normal position. This can cause funky special event camera cutscenes but should cause no problems in gameplay.
Additional Credits:
Mods used during creation- these are not required to play the neighbourhood.
Anygame starter
by Numenor
Colour Enabler Package
by Numenor
notownieregen
by JM Pescado
Basegame hood deco allowed in lots
by SaraMK
Canister ceiling light fix
by Havelock
Shadow fix
by Nopke
Hoodreplace
by Mootilda
Hoodchecker
by Mootilda
Wardrobecleaner
by Mootilda
Sim PE
by Quaxi and PeterJones
Sim PE updated
by Chris Hatch
Advanced Sim Surgery
by Theo
Bodyshop sliders added to CAS
by Aaroneous
20 Sliders
by SimNopke
Sliders set 2
by DigitalAngels
Ear sliders
by hexanticle Kazarin
Asymmetrical Sliders
by Jawusa
Ear and teeth sliders
by LadyBane
Late to the party sliders
by Lifa
Custom sliders
by Memento
Asymmetry sliders
by Memento
Six Sliders
by VampireKiss6661
Smirk sliders
by VampireKiss6661
Ear sliders
by Veetie
Thanks to HarVee and Jawusa for feedback and beta testing.
Special thanks to Tashiketh for Modthesims, and to all of the people who have discovered the inner workings of the game and written tools and tutorials to help people like me.
Extra special thanks to Dirk, Lerxst and Pratt.
15 Comments / Replies (
Who?
)
Users who thanked this download also thanked: