Buy Mode

>

By Room

>

>

Complete dining rooms with matching and coordinating items.
Danish Modern Dining in iCad's woods + chairs with slaved fabrics
MTS has all free content, all the time. Find out how YOU can help to keep it running.
Tell me how...

Created by AranelS View Policy / About Me View Downloads Home
Uploaded 11th Feb 2012 at 10:19 PM
There are two parts to this set, and although
I
am using them together, you may use either one separately.
First, I slaved the seat cushion of the base game
Zecutime Social Chair
("chairdiningdanishmodern") to
Jonesi's bed blanket
. Since there are a zillion recolors of that already out there, that means you can have a dining chair with a zillion recolors for the price of...not very much. Because the Maxis original had basically no shading to speak of on the cushion, this works great with no modifications.
Then, since the Maxis original colors were pretty bad (how many houses really need a bright orange wood chair?), I did some recolors in all twelve of iCad's fantastic furniture shades. I added some wood grain to the texture because the original was kind of...odd. For fun, I also recolored the
FLATWÖUD
dining table, which is known as "tablediningdanishmodern" in the game files and is presumably supposed to match. It's a great table already and I loved the original textures, but these
match
. I took the wood texture from the lightest existing recolor.
Then
, just as an experiment, I stuck the Jonesi bed blanket fabric on the two chairs from the Loft dining set ("chairdiningloftoffice" and "chairdiningloftfork", also known as the Plasticity and Stark Inspiration Chairs). This does not work quite as perfectly as with the Zecutime chair, but with some textures it looks pretty good. Depending on what kind of recolors you already have installed, it may or may not be useful to you. You can sort of see from this comparison how it works: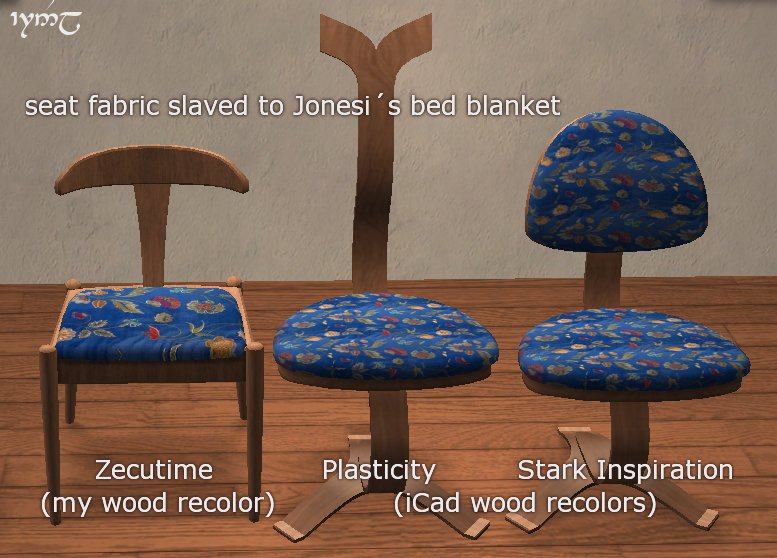 Since
iCad has already done an awesome recolor of the Loft set
, these also match.
You can download the wood recolors
or
the slaved chairs
or
both. (The slaved chairs will not override the originals, so you can keep your existing recolors, too.) The slaved chairs pull files from the game for everything except the fabric, so they will use whatever wood recolors you already have. They
should
be base game compatible. All files have been compressed.
Obviously, there will not be much point in downloading the slaved chairs unless you also have Jonesi's bed blanket plus some recolors. I recommend that you start with
this awesome set by mintcherry
, which conveniently comes with the mesh included. You can also download the mesh, plus some more recolors,
directly from Jonesi
.
I have not included the mesh here
because 1-you probably already have it and 2-it is already available here on MTS. (Try searching for "
blanket
".)
Additional Credits:
The photos use
iCad
's
wood floors
,
chair frame recolors
, and
windows
in order to demonstrate the color matching.
All of the chairs pictured are using
mintcherry's recolors
of
Jonesi's bed blanket
.
All editing and such done in
SimPE
and the GIMP (thanks to iCad for GIMP-friendly colors!)
Tags: #Jonesi blanket, #iCad, #wood, #dining chair, #dining table, #danish modern, #zecutime, #plasticity, #stark inspiration
About Me
Since I have gotten so much enjoyment out of free custom content, I finally decided to share some of my dabblings in order to, in some small way, give a little bit back to the community.

Since all I make is free stuff made with other free stuff (except for the games, half of which I bought used, I am not even using any not-free software--hooray for the GIMP!), and it is made possibly entirely by other people who have shared THEIR free stuff, I am entirely sharing-friendly. Do whatever you like with any of my stuff. Make recolors, pull it apart and make it better, mix it with your own stuff, upload it with your Sims or lots or whatever, or print it out and use it as a background on your dart board.

In order to make sharing easier, crediting me is nice, but not required. If you forget where you got it, 'er...someone somewhere' is acceptable credit. (Basically, anything short of claiming to have made it yourself.)

I would prefer that you not put anything made with my stuff on pay sites, because I figure if I make free stuff using other free stuff, it should stay free. Obviously you should never try to make money off of somebody else's stuff, but as for just posting for free on sites that have some pay content...since I don't actually frequent any pay sites, I wouldn't know if you did. Use your best judgment.