>

Wallpaper, Paint, Ceramic Tile, Siding, Ceramic, Wood, Paving, Carpet, Linoleum, and Ground Cover or Sets of all of those
Cedar Shake Siding
MTS has all free content, all the time. Find out how YOU can help to keep it running.
Tell me how...
Created by iCad View Policy / About Me View Downloads Home Tumblr
Uploaded 10th Nov 2013 at 2:54 PM
So I'm going to be embarking on a bit of a building binge soon. Which is why I've been making walls out the wazoo. On the agenda for said binge is small lots (because that's all this little machine will happily run) in many different styles that I've not built before in the game. On the list is "Craftsman bungalows." Which are often clad at least in part with cedar shakes.
And Maxis has one. The color is truly horrendous, as usual, but I could fix that. But then, the texture, IMO, is nothing to write home about, either, and when put on the wall it makes the wall look oddly...um, wavy, is the only way I can think to describe it. Or maybe warped would be better. Either way, I decided not to take the easy way out and just recolor that texture. So...off to the Internet to find textures. I finally found one I liked deep down in the guts of GIS and then spent a long time getting it to the right scale and getting it to tile properly and weathering it up a bit and all that good stuff. But I like the result, so it was worth it...I think.
Anyway, here's what the result looks like on a house built by Plasticbox, the same one I've used for the last several things I've uploaded: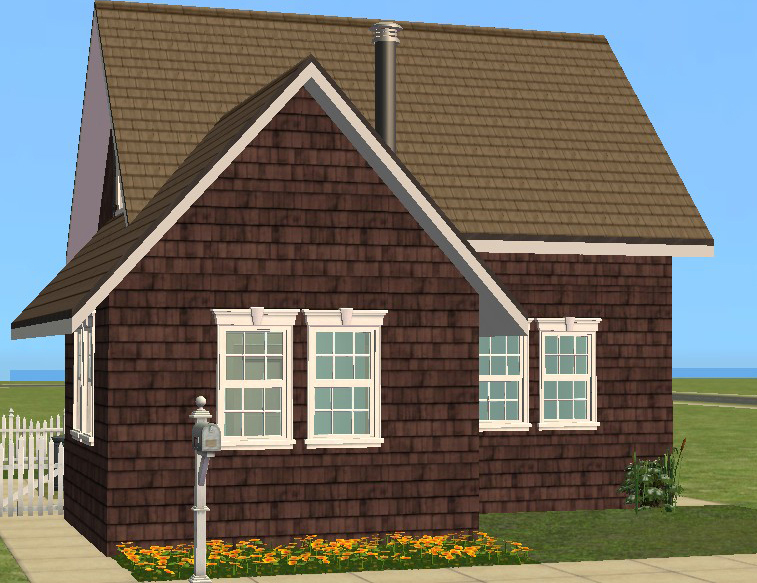 That's Vintage Lantern, if you're curious, one of my wood colors. I made these walls in 13 of the members of that palette, leaving out the "weathered" colors because...Well, these are weathered enough without beating more color out of them. So: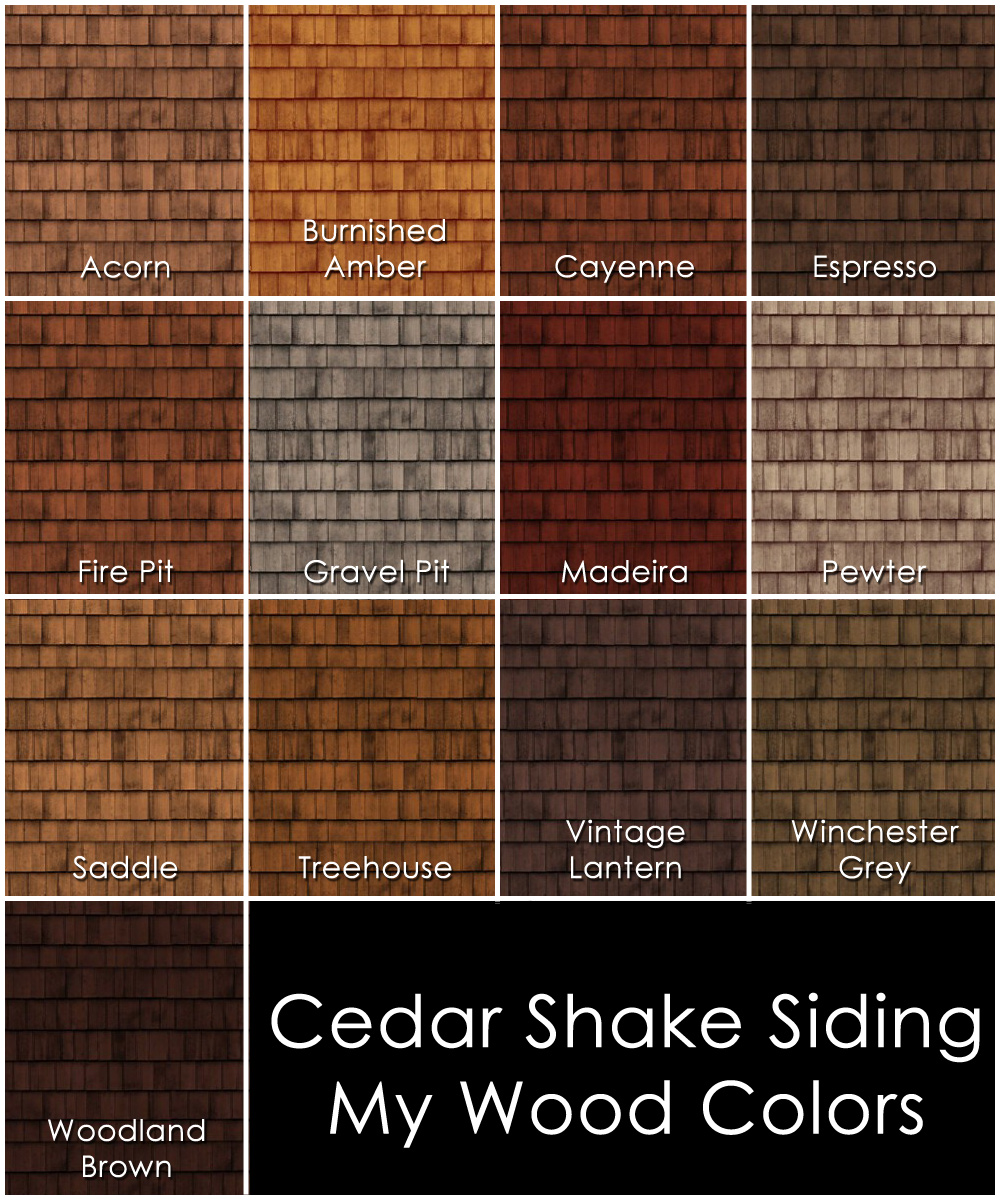 I also made them in 12 more-or-less subtle colorwashes, in preparation for building something Craftsman-y, what with that style's fondness for muted colors in addition to wood tones. I pulled colors from the clapboard siding I recently posted here, 3 of the Maxis-match colors and 9 of the new colors I chose for that siding. It should be noted that these walls won't match those sidings, though, because these have a lot of color variation in them, as they should. So don't get excited. Anyway, here they are: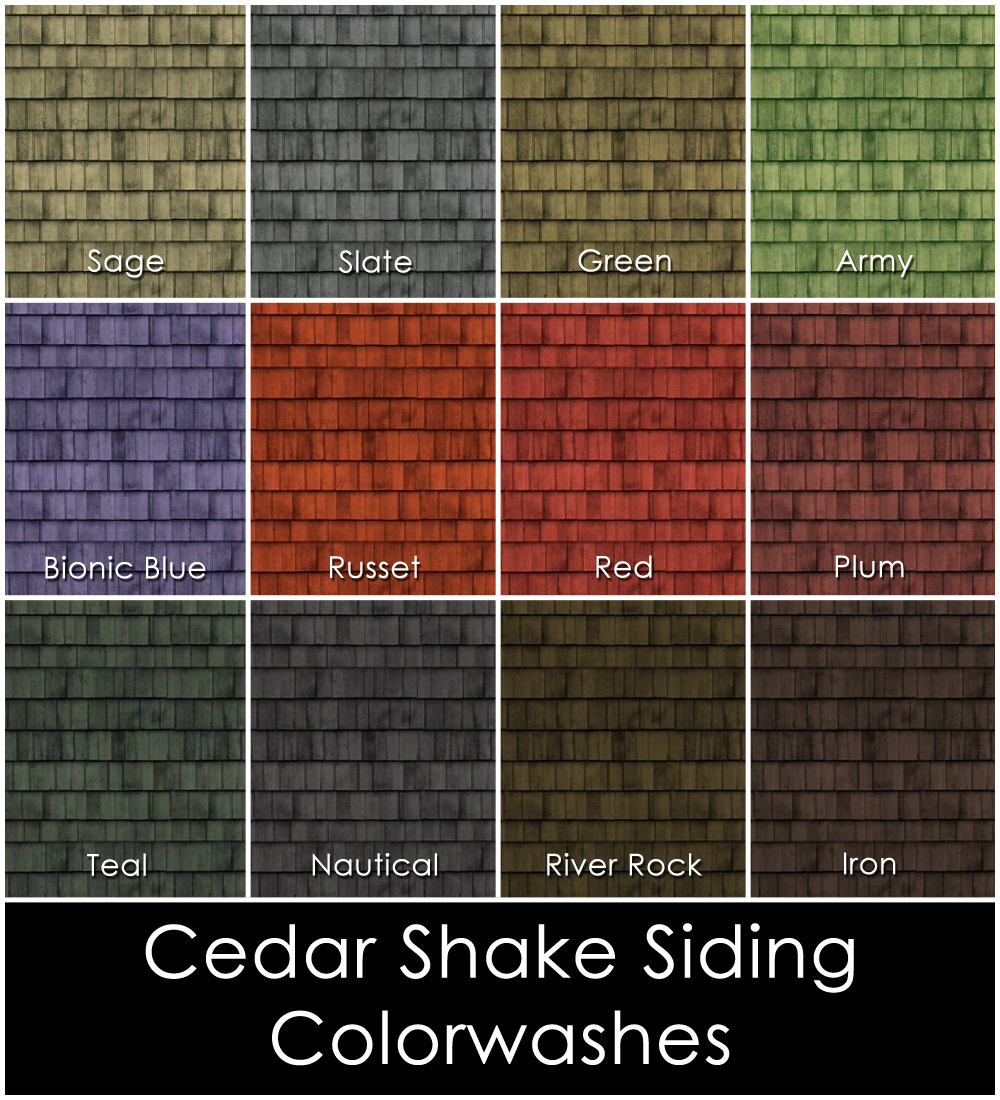 The swatches above were made from in-game pics, taken on a sunny-side wall fairly close-up to show texture detail. You will find these in the Siding category and they cost $8. I uploaded two zips, one with my wood colors, the other with the colorwashes, in case you might not want both. The files have been pre-Compressorized, clearly renamed, and copies of the color swatches are included in the zips.
Thanks to:
Photoshop CS2, the only way to fly on a netbook
Homecrafter, grudgingly. *mutters about file names and extra work*
Jfade's awesome Compressorizer
Tags: #wood siding, #shingle siding, #icad woods, #craftsman