>

Mods that replace game resources other than the script core.
Emotions Don't Kill (NO LONGER UPDATED)
MTS has all free content, all the time. Find out how YOU can help to keep it running.
Tell me how...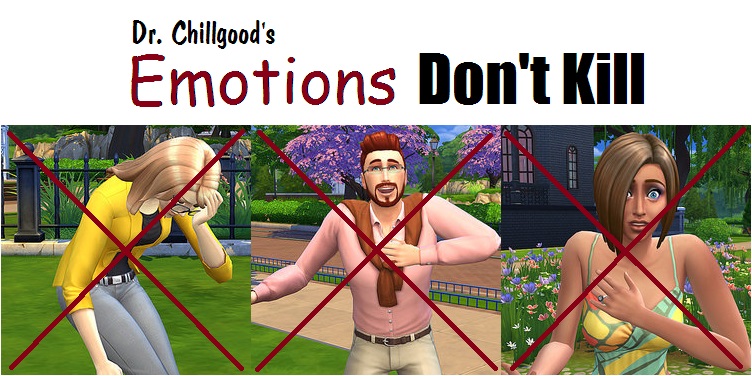 Created by DrChillgood View Policy / About Me View Downloads Home
Uploaded 4th Dec 2014 at 2:06 PM · Updated 24th Oct 2017 at 5:14 AM by DrChillgood
NOTICE 10/23/2017: After a falling out with EA's community management, I have deleted my Origin account and have retired indefinitely from The Sims.
Probably the biggest and most ballyhooed feature of The Sims 4 is the emotion system. One detail they included was that some emotions are lethal. Let's go through the emotional deaths, shall we?
About that laughter death: Apparently, the creators were so proud of it that they showcased it in early promotional videos. I guess the Sim is supposed to be choking or running out of air while laughing? It's just forced, hokey, and unfunny. It doesn't even make sense for it to be a random thing. I could understand if it was choking because of laughing while eating, but it's just random and unfunny. Looking at it, the creators should be ashamed.
Speaking of embarrassment, ever had the only toilet in your house break and weren't able to fix it before you peed yourself? Well, that's what my No Fountain Toilets mod is for, so that's not the best example. Ever had your Sim propose to the love of his/her life only to be consumed with shame after the heartbreak and keel over? Bonus points if it's a legacy heir whose life is claimed by the shame.
The anger death at least makes some sense - your Sim's heart explodes from the strain caused by rage. But then it doesn't make sense for an otherwise healthy young adult to have his/her heart explode.
Available together or separately.
Files changed:
S4_6017E896_00000000_0000000000003230 Mortified Hidden Buff
S4_6017E896_00000000_000000000000322B Hysterical Hidden Buff
S4_6017E896_00000000_0000000000003228 Enraged Hidden Buff
S4_6017E896_00000000_0000000000006AB8 Enraged Hidden Buff (Hot-Headed Version)
All to prevent them from calling the Emotion_Failure_Idle (which leads to the emotional death).
Those who died of emotions before you installed the mod will still have the ghost trait corresponding to the emotional death.
Additional Credits:
SimsVIP for the images of the emotional deaths.
Type: Other

Tags: #enraged, #mortified, #hysterical, #emotional death, #death
Retired indefinitely.
After mistreatment at the hands of EA community management, I finally got my Origin account deleted. I cannot see EA changing course any time soon. In fact, they seem to be doubling down on predatory business models.