>

Mods that replace game resources other than the script core.
Less/No Good/Bad Surroundings Buffs (NO LONGER UPDATED)
MTS has all free content, all the time. Find out how YOU can help to keep it running.
Tell me how...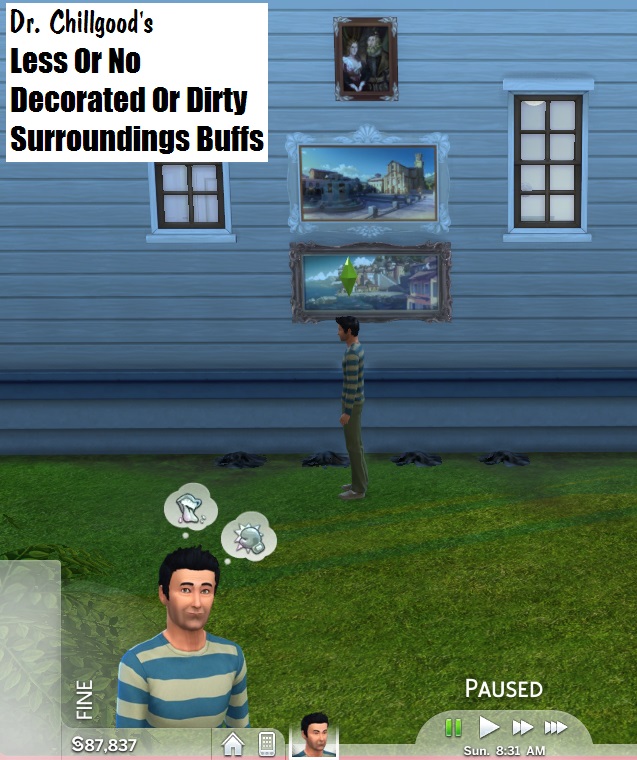 Created by DrChillgood View Policy / About Me View Downloads Home
Uploaded 6th Jan 2015 at 4:44 AM · Updated 24th Oct 2017 at 5:09 AM by DrChillgood
NOTICE 10/23/2017: After a falling out with EA's community management, I have deleted my Origin account and have retired indefinitely from The Sims.
I compared the Commodity XML files for Positive and Negative Environment, between the copies in my mod and the copies freshly extracted from the game's packages as of the Toddler Patch.
Less Good/Bad should work fine. No Good/Bad, use at your own risk. Let me know if it works, actually.
I got a PM from emmatigerlily requesting a "No Beautifully Decorated Moodlet" mod.
She's right. I hear a lot of complaints that the Sims are happy all the time from a few decorations, and also a lot of mood swings from going from nicely decorated to sparsely decorated rooms. I guess this is to compensate for the thresholds for complaining about motives being much higher.
At the same time, a broken object or two, or the Trash Pile from repairing it, immediately slams you with a Dirty Surroundings buff. Cue whining about problems and some rather unpleasant conversation and relationship drops. Surely there's a middle ground between a slob that would make Wario sick and a neat freak who grumbles about one stray trash pile.
Instructions: The
zip
contains the different flavors - Less Good, Less Bad, Less Both, No Good, No Bad, and No Both. Mix-and-match the Good and Bad, or choose only one of the Both.
Technical stuff: This modifies two Statistics (0x339BC5BD) - Positive Environment (17DF5) and Negative Environment (40C9). No Good or No Bad Surroundings completely removes the buffs.
Unmodded Good Surroundings:
10 Environment = +1 Happy
80 Environment = +2 Happy
640 Environment = +3 Happy
Less Good Surroundings:
40 Environment = +1 Happy
160 Environment = +2 Happy
1280 Environment = +3 Happy
This is intended for those who sparsely decorate. Otherwise, choose "No Good Surroundings."
Unmodded Bad Surroundings:
11 dirty = +1 Uncomfortable
21 dirty = +2 Uncomfortable
41 dirty = +3 Uncomfortable
Less Bad Surroundings:
21 dirty = +1 Uncomfortable
41 dirty = +2 Uncomfortable
81 dirty = +3 Uncomfortable
Neat Sims always get +3 Uncomfortable for any level of dirty.
Since the dirty statistic is invisible, I had to test it. I put the lion hat on a test Sim to make him Angry, and had him kick over the trash can to create Trash Piles. With my mod, he got the first Uncomfortable point at three Trash Piles, the second at five, and the third at nine.
Type: Other

Tags: #dirty, #surroundings, #environment, #decoration, #happy all the time
Retired indefinitely.
After mistreatment at the hands of EA community management, I finally got my Origin account deleted. I cannot see EA changing course any time soon. In fact, they seem to be doubling down on predatory business models.