MTS has all free content, all the time. Find out how YOU can help to keep it running.
Tell me how...



Cronor
by
CroNor
Posted 30th Oct 2018 at 9:13 PM - Updated 3rd Nov 2018 at 9:19 PM by CroNor : Typos and tags...
470
Thanks
Thanks
262
Favourited
This is a featured upload!
It showcases the best talent and creativity available on MTS and in the community.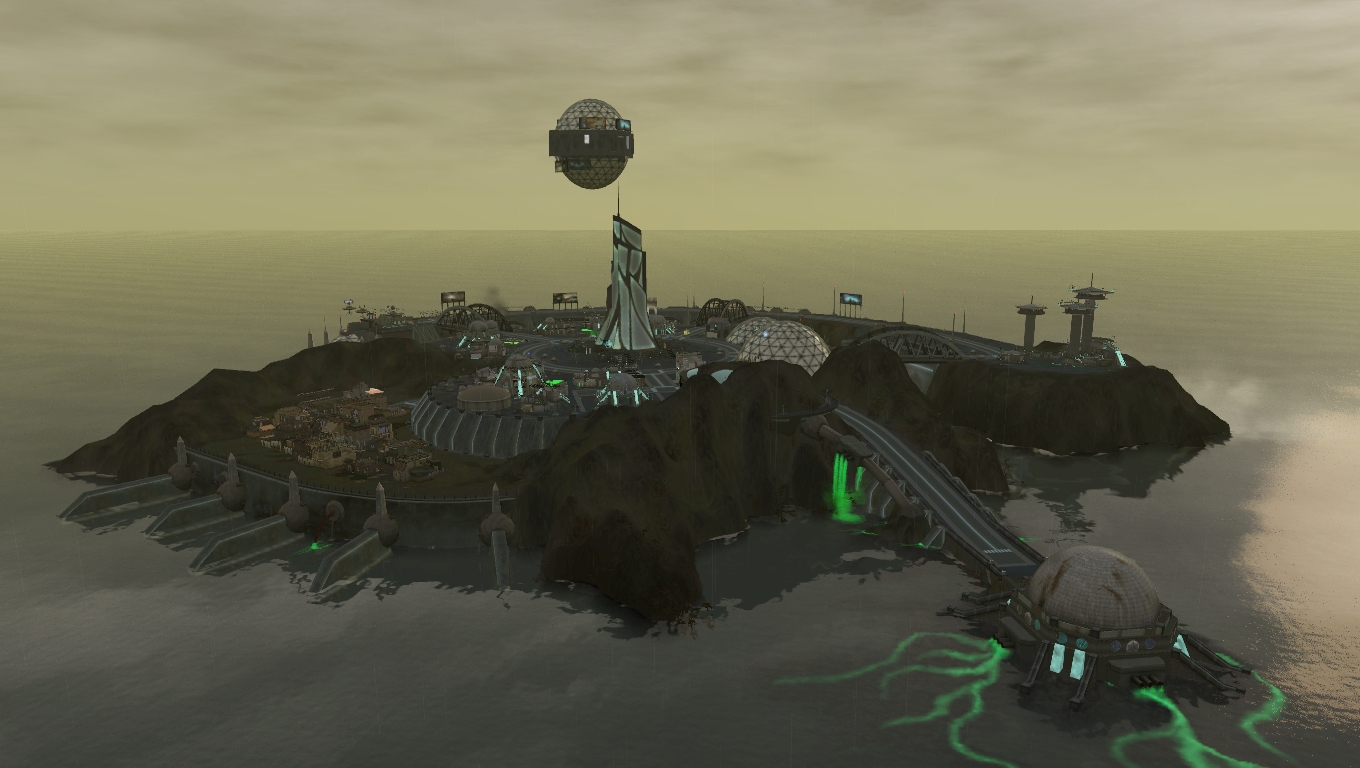 Welcome to Cronor

...the beautiful forest, mountain meadows and crystal clear lakes invite you to hours of walking. Majestic trees and a rich variety of beautiful and rare flowers make the area most attractive for nature lovers and families alike... Agreed, this is not something you would write in an advertisement about Cronor. But if you enjoy greenery you might like the local water. Why would someone visit such a dreary place voluntarily anyway? Well, it's the very kingdom of science with several breakthroughs in various fields of research. Some other breakthroughs, too, but we don't want to talk about them right now. But scientific progress with it's advantages is not the only thing you will find in Cronor. Except for the obvious lack of nature Cronor has everything you could possibly need. Or don't need right now. It seems Interstellar Police don't have such a keen eye on this place. Or maybe it's that your travel pass has expired and you just can't get the local authorities to renew it. So whatever reason you have to be here, welcome to Cronor!
World Details

Population: unpopulated
Size: 1024x1024 - medium
World Type: Base (suburban)
Number of community lots: 17 (plus 2 rabbitholes off-lot)
Number of residental lots: 14
File size: ca. 52 MB
Number of layers: 9 plus Global Layer
Number of terrain textures: 21, on some chunks we used more than the recommended 8 per chunk but that shouldn't be a problem
Most parts of the islands are routable, only steep slopes are not accessible for sims. Non-camera routing was not applied. Due to recent instabilities Cronor Council strongly advises not to leave your cars while on Cronor Crescent. (In fact, we made the area unroutable except for the road to keep your sims away from the hazardous stuff!)
Spawners
If you enjoy playing a gardener then Cronor will be a new challenge. Due to the nature of the world and the small size there are only very few spawners. Maybe take that space ferry and do frequent trips to other planets?
One gem and 2 meteor rock spawners from Basegame
All metal spawners from Basegame and Late Night
Only a very small selection of butterfly and insect spawners
A few nanite spawners
All fish spawners on lots (except for WA ones)
Junk piles on lots
Cockroaches and termites
All harvestable plants can be found on lots (except for WA ones)
Requirements

Required Expansions:
World Adventures, Late Night, Ambitions, Seasons, Showtime, University Life, Into the Future
No store content, no Stuff Packs required
Built on patch level: 1.67.2.024
Required CC
- Jynx' rabbithole rugs (pets fixed) for stadium, business, journalism, hospital, spa, science, movie theater, bookstore, grocery, police, military, school from here:
http://www.modthesims.info/showthread.php?t=552847
, post #6, you only need the basegame ones
- Misty's rabbithole rugs for
bistro
(Naughty Sims Asylum, reqistration required) and the Stellar observatory (
Sims3legacies
: Into The Future Rabbit Hole Rugs)
Optional:
Many of the community lots are combo lots with a specific lot type (e.g. Salon) and a rabbithole rug. The RH rugs overwrite the lot type map tags in these cases. The lots work fine, the specific lot map tags just do not show in map view. If that bothers you this will help: map tag fixes by Don Babilon
http://www.modthesims.info/download.php?t=614360
.
Things to note about Cronor
The world comes with custom lighting/weather. So if you have a global lighting mod you might want to take it out to see how the island is meant to look.
The world contains all career rabbitholes (with the help of rabbithole rugs) except for the Movie Set RH from Late Night.
EA tends to spawn collectibles for all EP you have installed. So even if we didn't use any content from Pets, Supernatural, Generations or Island Paradise you might find e.g. small pets in inconvenient places. If you want to prevent small pets from spawning you could try this mod: http://modthesims.info/download.php?t=518178
You will notice that some objects were placed to create a certain atmosphere. Even if some of the objects are not usable anymore or cause routing tantrums, we left it this way to keep the unique look.
On some lots we used garage doors as regular doors. Please keep in mind, that those cannot be opened autonomously by sims! You as a player will have to open and close them manually.
Many of the characteristic features of the buildings were achieved with the cfe cheat. For this reason you might encounter ceiling tiles that look like stray tiles, especially if you play with "walls down". Those are ceiling tiles of warped floors and not stray ones.
To ensure the unique and grimy look we recoloured everything or used the CaSt-Tool on it. For this reason it may take a while until all textures are loaded. Also loading times when placing sims or loading the game might be a bit longer than usual.
For this same reason and the custom weather it is highly recommended to quit the game and reload if you want to switch worlds. Weather or textures may bleed into the next world. It will be ok after saving and reloading. This is not an issue with Cronor but EA default.
Snow adds a heavy load on performance. If you have any issues with freezing (of the game, not sims) or crashes during winter, we recommend to switch off snow in the game options.
Credits

A huge Thank You! to
Simsmidgen
(
Simsmidgen.tumblr.com
) and
attuned
for helping and testing and support! Also to
Architectural-sims
(
architectural-sims.tumblr.com
),
City-Mouse
(
https://city-mouse.tumblr.com
),
Dylan-Walsh-Sim
(
http://dylan-walsh-sim.tumblr.com/
),
Gaiahypothesims
(
http://gaiahypothesims.tumblr.com
),
Maramaja06
(
maramaja06.tumblr.com
),
Mpartsbuilds
(
mpartsbuilds.tumblr.com
) and
Nocturnalazure
(
nocturnalazure.tumblr.com
) who tested the world.
Simsmidgen
for the wonderful furnishing of the Blue Note and the Rise and Fall.
RamboRocky90
for allowing the use of his fantastic tower as a base:
https://www.thesimsresource.com/dow...use/id/1267208/
Decorator's Best Friend by misukisu:
http://virtualartisan.blogspot.com/...est-friend.html
NRaas Debug Enabler:
https://www.nraas.net/community/DebugEnabler
Velocitygrass' stencil remover:
http://www.modthesims.info/download.php?t=478307
95 Comments / Replies (
Who?
)
Users who thanked this download also thanked: